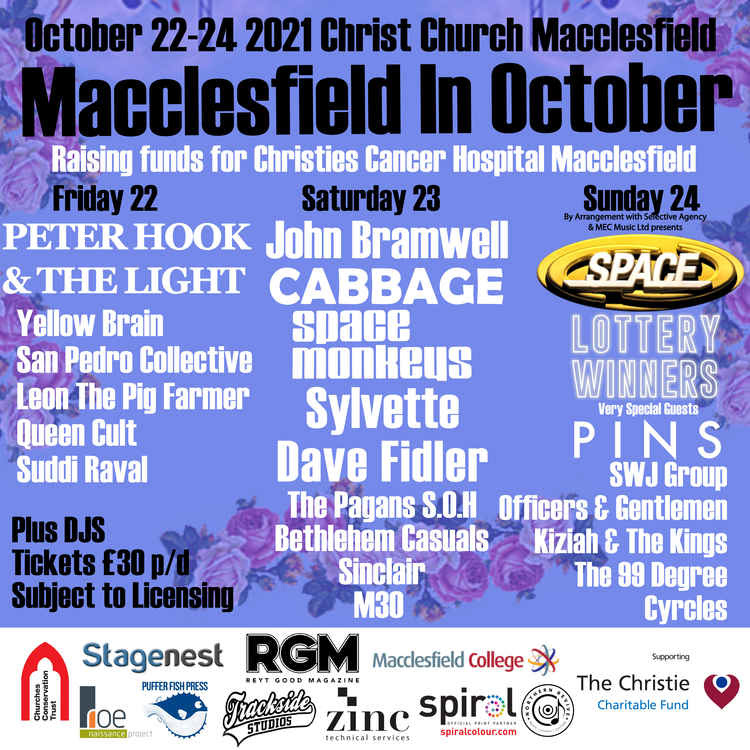 Macclesfield has a huge history of music it was the home town of Ian Curtis and Stephen Morris of Joy Division, and Gillian Gilbert, who along with Stephen Morris was a member of New Order. A memorial to Curtis is located in Macclesfield Crematorium. Other Macclesfield acts to have gained recognition include The Macc Lads and Marion. Silk Brass Band, the Macclesfield-based brass band, won the National Champions of Great Britain title in 2003. The blues singer John Mayall was born here in 1933. More recently, local band the Virginmarys has achieved national and international success. Chart-topping UK band The 1975 also partly come from Macclesfield.
Despite having a rich musical heritage Macclesfield has few large scale music events bringing chart topping bands to the central Macclesfield.

Located in Christ Church the stunning a redundant Anglican church in Great King Street, the festival is a non profit initiative working with The Christie Cancer Hospital, who are opening a centre in Macclesfield. For more info in the new hospital https://www.christie.nhs.uk/the-christie-charity/why-we-need-your-help/what-we-are-fundraising-for/the-christie-at-macclesfield.

Friday Night – Headlining is the phenomenal Peter Hook & The Light, supported by Yellow Brain, San Pedro Collective, Suddi Raval, Leon The Pig Farmer & local Macclesfield rising stars Queen Cult.

Saturday Full day of music – With I Am Kloots John Bramwell, Cabbage, Sylvette, Dave Fiddler, The Pagans S.O.H, Bethlehem Casuals, local band Sinclair and M30.

Sunday Full Day of Music – With Liverpool's finest Space, Leigh's finest Lottery Winner, Manc funk SWJ Group, Kiziah & The Kings, The 99 Degree and Cyrcles

Limited amount of full weekend tickets remain
Plus limited amount of saturday sunday day tickets
DJS & After party bands still to be announced.

Tickets on sale here: